How to Build a Home Bar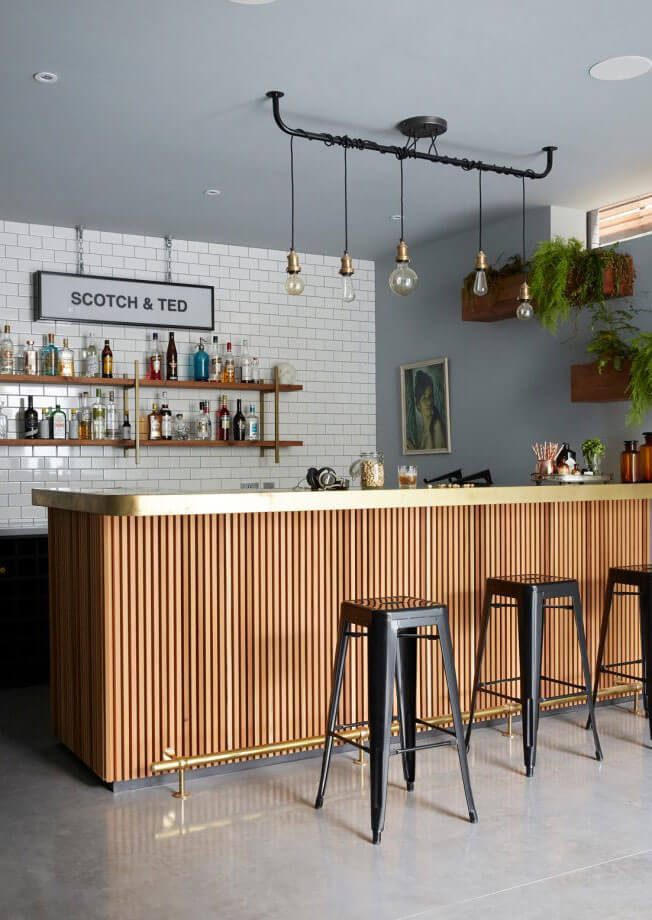 We live in an up-charged world and there might be no greater culprit than the bar down the street.
With an ever changing bar scene in downtown Calgary, that chic bottle of wine or masterfully crafted cocktail can be tempting and makes for a great night out.
However, we tend to go out for only special occasions as the night can add up quickly at a trendy speakeasy or wine bar.
Having a home bar will not only save you time and money but it will also prevent you from having to brave the Calgary's unpredicted winter weather.
Your home value may also increase with a built-in bar or it can become the place for your friends and family to hang out.
Let's explore how to go about building a home bar and turn your home into the next best happy hour spot.
Before Starting the Project
Before heading to the hardware store, there are a few things you need to consider. Ask yourself these questions:
What room are you building the bar in?

Do you need any permits in Calgary?

What makes the most sense regarding your current utility (electricity and water) blueprint?

What tools will you need to use?

What style should you go with?
Let's explore these questions in a bit more detail.
The Location
The most common considerations for a home bar are building it in the basement, in the living room or in the dining room.
Basement Bar
Turning your basement into a bar will not only offer your party total privacy but it is also a great entertainment space.
A lot of homeowners live with an unfinished basement without having a clue of what they should do with the space or if they have the budget to renovate it.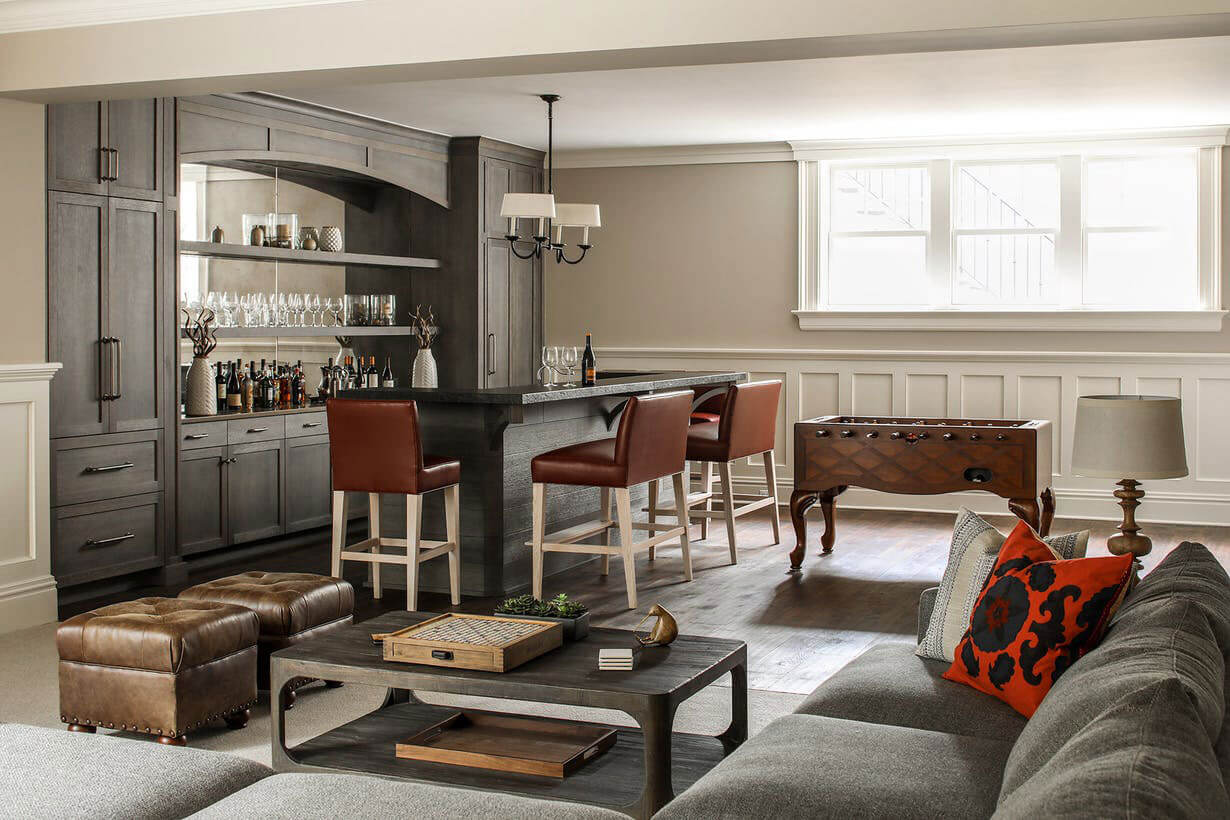 By turning your basement into a bar/entertainment area, you don't have to worry about having to assign a huge budget for it.
A basement home bar can range from $2000 to $10000, depending on the size and requirements of your project.
If you have a big enough basement, you can even create a sleepover area so your guests don't have to worry about finding their way home after a night of drinking.
This can be as simple as a pull-out couch or a sofa bed.
The basement is also the perfect place to be turned into a wine room.
As the basement tends to stay a few degrees cooler, it can be the ideal environment to store a big collection of wines.
When the environment is too warm, the wine ages quicker which will damage the quality and taste of the wine.
The larger the basement, the more factors you need to consider to maintain the right humidity and temperature for the wine room at all time.
Dining Room Bar Cabinet
The bar can be an extension of your kitchen or as a part of your dining room.
With a plumbing system already exists, adding a bar here would save you time and money spent on a bigger renovation project that requires plumbing work.
This is a moderate project which will only require additional built-ins or cabinets where the space allows.
Additionally, if you don't have room for an extra cabinet, our carpenter at Transform can help you build additional units in your existing cabinets.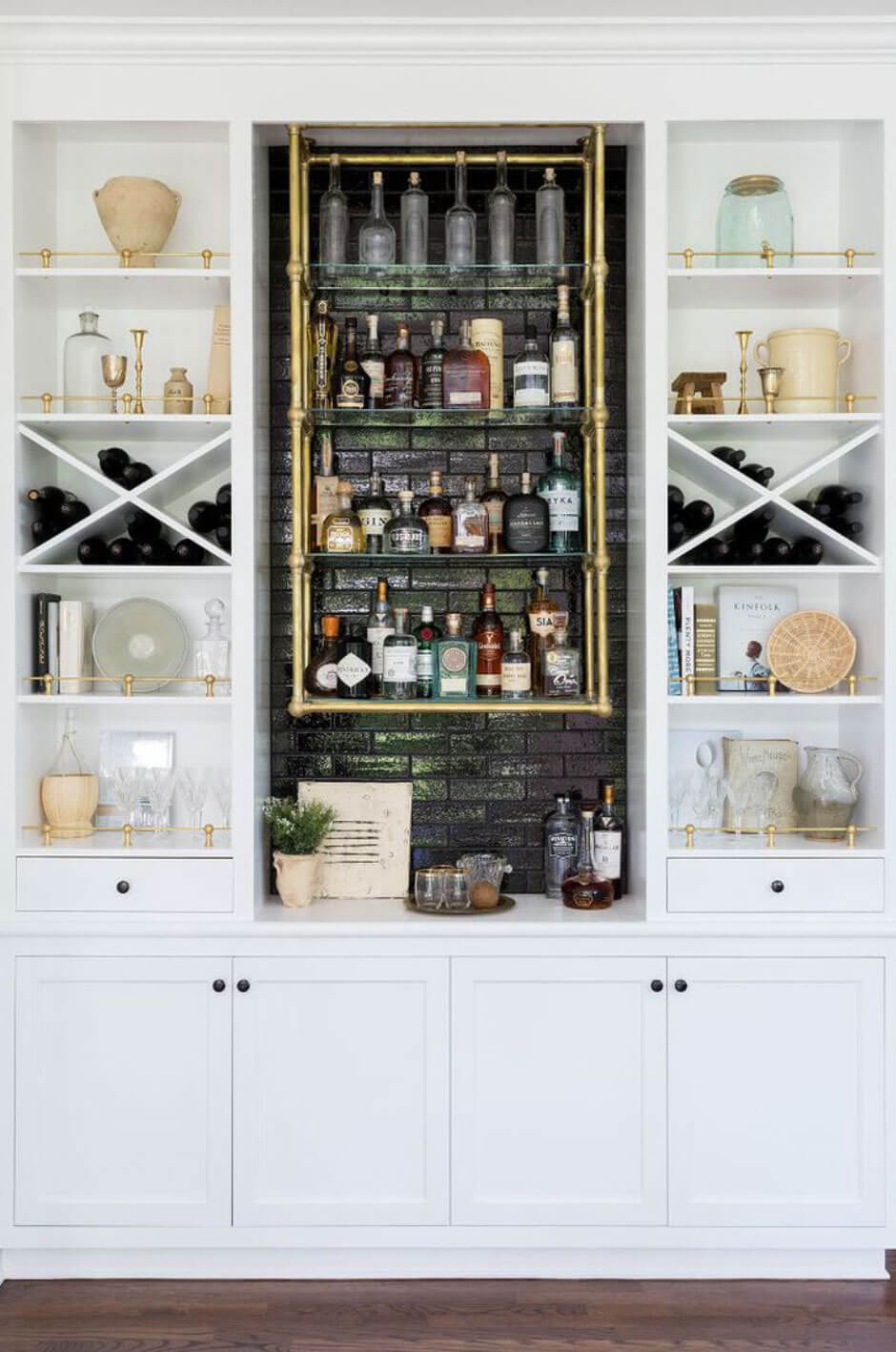 Our owner at Transform Renovations, Rod Sztabzyb is a certified carpenter who can help turn any of your vision into a reality.
From small customized built-ins to big carpentry projects, Rod can work with you closely throughout the entire process to ensure all your requirements are met.
Living Room Bar Carts
If your space does not allow for a big built-in unit, bar carts are also a popular option.
This is the most affordable option that does not require a lot of effort or space.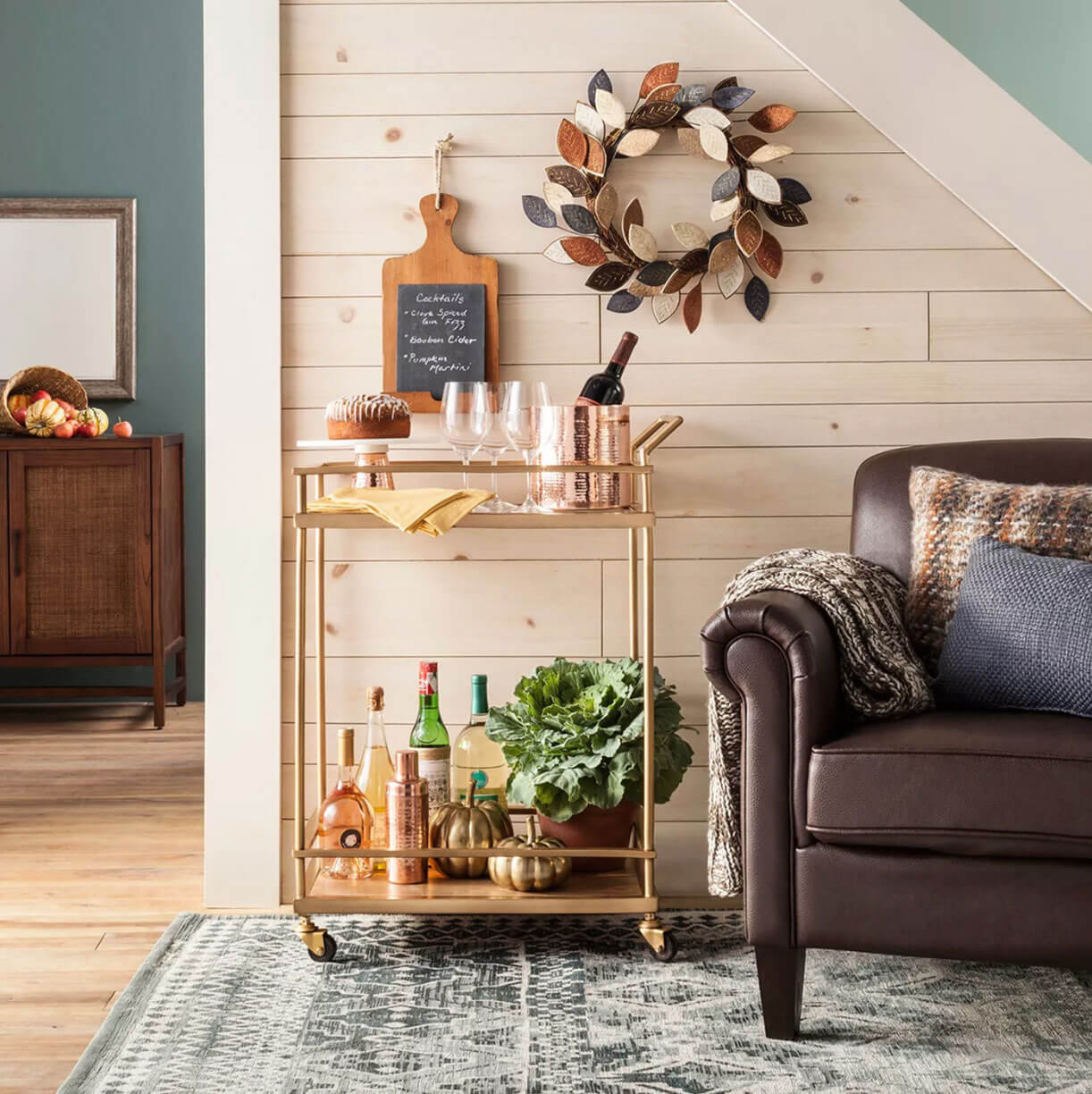 Now that you have thought about the location, size and budget of your project, there are a few more things you should prepare for including permit, style and tools required.
Do You Need a Permit?
For Calgary residents, it is highly recommended that you check out the city's bylaws for home renovations.
Typically, renovations do not require a permit, however, a building permit or a development permit might be needed.
Be sure to consult with a City of Calgary worker or a professional home renovator prior to starting your project.
Contacting your insurance company is also highly recommended especially if it's a major renovation.
See what you are currently covered for and if you need to add anything else to your insurance plan.
It is always best to get advice or contact a professional to avoid any potential injuries, damages to your home or worse, damages to your neighbourhood's infrastructure.
What Tools Will You Need?
Building a home bar is a big project and will require a professional DIYer's toolbox.
Of course, specific needs will vary depending on your personal style and requirements, but these tools will be a good start:
Screw gun (impact driver)

Screws

Finish nails

Two-foot level

Table Saw

Compound mitre saw

Measuring tape and a pencil
How To Choose The Right Style?
Now we're talking about the fun stuff.
This is entirely up to you and your current home style.
It can follow the style of the existing interiors or you can be creative with a whole new style.
Even if you decide to go with a new style, make sure to still have a good flow and connection between all the rooms in your house.
This means that it can share the same colour scheme, same decor style, the same accent furniture or the same accent colours.
Ask yourself these questions:
How will it make you and your guests feel?

Are you thinking chrome and brass, natural wood, or perhaps concrete?

How many stools will you need?

What about mirrors?

Do you need a television or an entertainment unit like a pool or a dartboard?

Do you want it to be a cocktail bar, a wine bar or do you want to install beer taps as well?
With so many possibilities, a planning guide or checklist should be in place if you plan to DIY it.
If all of this seems like a pipe dream, give our team a call and we will hook you up with the home bar of your dreams.
Other Considerations
Figuring out an entire bar system on your own can be tricky.
If a wet bar is on your mind, additional utility work will be required.
A wet bar requires a sink or plumbing work for a soda tap, beer tap or water line. The right tools, knowledge and skills are required to install lines and drains.
When it comes to electricity, think about the type of refrigeration (and freezers) you want for your bar.
If you are thinking about a wine cellar, the appropriate climate control device is also required.
Of course, the perfect mood lighting will require the perfect electrical layout.
Don't let this limit your dreams, you can hire Transform Renovations for the utility work and have at it with the remaining DIY project.