10 Steps to Choosing the Right Contractor For Your Home Remodeling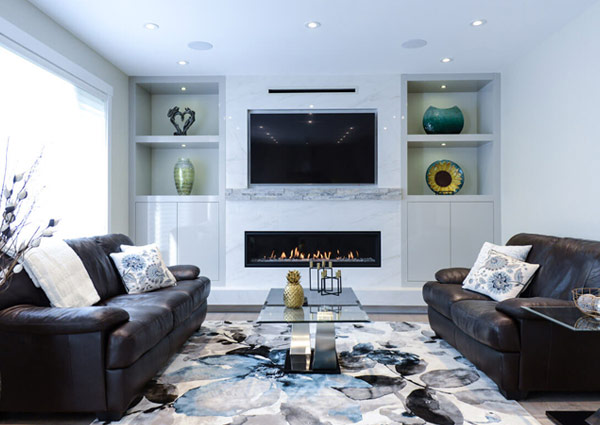 When it comes to researching how to find the right contractor for your home remodelling project, it's easy to feel overwhelmed.
From a full home renovation to kitchen, bathroom and basement – the right contractors will help renovate your home based on your needs and style.
Similar to hiring a new employee for a job, you should follow a thorough process to narrow down the best candidates.
We've consulted our experts for the top tips on hiring the right contractor for your home renovation project.
Here you will find solutions to many of your questions as well as growing your confidence as a homeowner.
In this article, you will find:
10 Steps to Choosing the Right Contractor
1. Do Your Research
Before you tackle any home renovation project, it is wise to sit down and prepare for the project ahead.
During the preparation step, there are a few things you should consider including budget, timeline and common challenges.
Researching beforehand will also help determine your project objectives and what should be included on your home renovation checklist.
Project Objectives
For any renovation projects, it is important to understand the feasibility, permit, your rights and responsibilities, financing and timeline.
Knowing these will ensure that you don't go over budget or exceed the timeline you can afford.
Ask yourself these questions:
What room are you renovating?
Do you need any permits in Calgary?
What makes the most sense regarding your current utility (electricity and water) blueprint?
What style should you go with?
What is your budget
What your ideal timeline?
Is it possible to achieve what you would like to build?
Can you live in the house during the renovation?
Create a Checklist
Creating a checklist will help you determine a clear objective, timeline and budget for your project.
This will also help both you and your contractor know exactly what to expect.
Your checklist should cover all the important criteria, such as:
Project logistics
Permits/Inspection
Insurance
Budget planning
Design planning
Timeline/schedule
Project wrap-up plans
Of course, our team at Transform Renovations is always available for a conversation.
If you have questions for any of the items on this checklist, get in touch with us today and we'll be ready to guide you through them.
2. Get Recommendations
Take the time to carefully research contractors in your area.
Look for contractors who specialize in the type of remodel you are looking for.
You can narrow down this list for the top choices, however, it is recommended to start with a list of 10 to 15 local contractors.
There are a few things you can do to put together a starter list.
Utilize local resources like the Renomark Renovator finder tool or Better Business Bureau to find trusted renovators who have agreed to provide a superior level of service.
Look for contracting companies who have excellent ratings on their websites.
Check out online reviews and social media pages to see what others say about their services.
Ask your friends, family, neighbours or coworkers who have recently gone through a renovation.
3. Review Your List
Once you've gathered a few names, go through your list and start narrowing down.
Talk to people about their experiences with the contractor and if there was anything you needed to know.
Have a list of questions/concerns you might have regarding the renovation process and the contractors. For example:

Did they finish your project on time?
Was the job site neat and safe?
Were problems communicated openly and clearly?
Was the cost reasonable?

Review each company and weigh the pros and cons.
4. Interview The Contractor
Many contractors offer free estimates or free consultations.
It is wise to obtain at least 3-4 different estimates from reputable and well-researched contractors to understand the average cost for your project.
It is also recommended to have a list of questions prepared when you meet with the contractor.
Ask the contractors to provide you with a portfolio of their recent projects.
Ask the contractor for a rough estimate and timeline for the project.
Ask the contractor about anything you should prepare for prior to the start of the project.
A good contractor should be able to provide detailed answers to your questions and offer insightful suggestions to improve your project plans.
5. Licensing and Certification
Contractors should also always hold proper licensing and certification.
Also, procuring your own licensing, permits, and insurance before project start will ensure the safety of your project.
Ask the contractors to provide you with licensing and certification that they will require to complete the job safely and legally.
Ask the contractors for their liability insurance to understand what will happen if they damage your home and if they are up to date.
Ask the contractor about any additional permit, insurance or licensing you might need
See if the contractor will be able to obtain these licenses and permits for you.
6. Compare Portfolios
When the contractor provides you with their recent portfolios, review them carefully for any red flags.
You can also the contractor's previous projects on their website or reputable industry sites like Renomark and Homestar.
Take the time to compare this information with your design plan and style, as these elements can vary from contractor to contractor.
Some red flags might include:
For bathroom remodels, watch for dark stains on the walls or ceiling, slanted floors, cheap materials, insufficient lighting.
For kitchen remodels, review the materials used, "kitchen triangle" (stove, refrigerator and sink) has a poor layout, poor lighting, inadequate storage or counter space.
The paint can be oversprayed, there are streaks, imperfect lines and edges.
The tiles are crooked, there are grout cracking, excess grout or caulking along edges, uneven surfaces, obvious transitions between surfaces.
7. Signing The Contract
Contracts lay out the terms, payments, and deadlines within your project and legally bind both parties.
When the time to review the contract comes, it is extremely important to go over it with your contractor.
Make sure you and your contractor both understand your obligations throughout the renovation.
Make sure that the contract states the deadline, progress payments, materials used, subcontractors and providers.
Make sure all required licensing and certifications are provided.
If you change your mind during the project, be sure to generate a new written contract that states the changes, work required, materials, new timeline and any additional cost associated with it.
8. Design Plans and Payments
It is highly recommended to be open with your contractor about your budget and wishes.
This will help the contractor understand your needs and will be able to work within your budget.
Ask the contractor about the payment process and when the payments are required.
Ask the contractor about the deposit and how much is usually required.
Discuss with the contractor about any concerns regarding the price, materials, timeline, logistics, etc.
The more information you can provide the contractor, the better they will be able to work to create the home of your dreams.
9. Apply for Permit
For Calgary residents, it is highly recommended that you check out the city's bylaws for home renovations.
Typically, renovations do not require a permit, however, a building permit or a development permit might be needed.
Be sure to consult with a City of Calgary worker or your contractor prior to starting your project.
Contacting your insurance company is also highly recommended especially if it's a major renovation.
See what you are currently covered for and if you need to add anything else to your insurance plan.
When you meet with your contractor, get advice on how to avoid any potential injuries, damages to your home or worse, damages to your neighbourhood's infrastructure.
10. Work With The Contractor
Now the fun begins - you are one step closer to your dream home!
It is important to communicate with your contractor frequently.
Make sure all issues are taken care of and the project is going as you envisioned
If you see any problems, be sure to communicate that to the contractor immediately
Ask for project updates often
Let your contractor know what you love about the project, as well as places you would like to see improvement.
The Big Takeaway
The right contractor should make you feel underwhelmed yet still in control of your home project.
Your contractor should also offer you expert advice, help you stay within your budget, and – above all – help renovate your home into space you envisioned.
Choosing the right contractor can be a difficult task but it will be rewarding.
Not only will you have peace of mind and save on money but you will also be able to come back to the home of your dreams.
If you're renovating a big area of your home, you might require a general contractor, who may hire subcontractors for specialty work such as plumbing and electrical.
For a knowledgeable, local contractor in the Calgary area, contact Transformation Renovations as your source of reputable service today!